This is a podcast on fintech in the CEE region and beyond
– hosted by Linda Sallai –
How to disrupt your disruptors? – Erste George Labs. Interview with Boris Marte
When and how should the Hungarian fintech startups go abroad? Useful tips in FinTechFlow from Barnabas Malnay. Read More
How to disrupt your disruptors? – Erste George Labs. Interview with Boris Marte
Every big financial institution struggles to stay on the cutting edge and compete both with its traditional competitors and disruptors. There are many forms of corporate innovation, and many ways to do that, but as Alan Kay put it: "The best way to predict the future is to reinvent it." And that is what Erste Group is doing in its George Labs trying to make banking simple, intelligent and personal again. Linda talks with Boris Marte, head of Erste George Labs. Read More
Best Incubator in Hungary: CEU InnovationsLab
Linda talks with Andrea Kozma, director of the CEU InnovationsLab. In 2017 CEU InnovationsLab was voted Hungary's best incubator at the Central European Startup Awards. Read More
How to Become Better. Discussion with Daniel Collado-Ruiz, CEO of Nestholma
Linda talks with Daniel Collado-Ruiz, CEO of Nestholma. They deep dive into how fintech startups should address banks so that they could start a successful cooperation. Read More
Luxembourg House of Fintech (LHoFT) Ft. Alex Panican
Linda talks with Alex Panican who is head of partnerships and ecosystem at the Luxembourg House of Fintech. Discover one of the coolest places for fintech in the world! Read More
Israel's fintech ecosystem – Equitech interview
Linda talks with Tal Sharon and Nir Netzer from Equitech. Tal and Nir helped Linda to understand how fintech could become so developed in Israel and what the roles of each and every players in the ecosystem are. Read More
Chatbot startup meets Japan's tech mogul at Techstars accelerator – Talk-A-Bot interview
Linda talks with Akos Deliaga, one of the co-founders, and responsible for business development at Talk-A-Bot. Talk-A-Bot, is a Hungarian chat-bot provider start-up. Akos talked about how you can use chatbots, why it is a great strategy to embed your chatbots into superapplications (eg. Viber, Messenger), how you can substitute your own application with a chatbot. Read More
Revolut – The seal team six of the financial sector
Linda talked with Andrius Biceika head of business development at Revolut. Andrius walked me through Revolut's world beyond banking. Read More
Why ESG investing is a win-win?
Linda talks with Balazs Faluvegi, who is one of the co-founders of Blueopes. Blueopes is a Hungarian wealth tech start-up, that is combining robo advising with ESG investing (aka social responsible investing, sustainable investing, mission-related investing). Read More
Happy Hacking at Junction X Budapest
In this FintechFlow episode, I smashed things up a bit and instead of having an interview I prepared a report about Junction X Budapest. Read More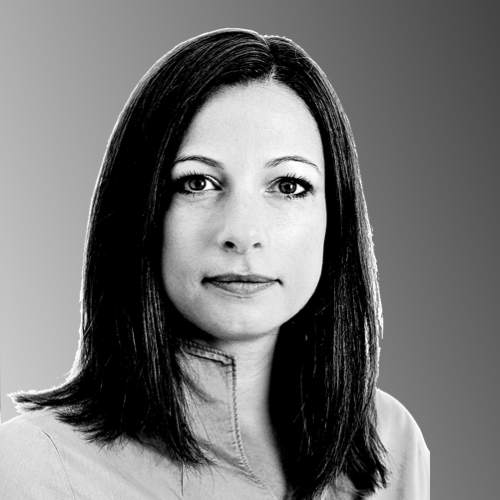 She founded an insurance company while the ink on her diploma was yet to dry. At the age of 28 she found herself in the position of Deputy CEO of CIG Pannonia Life Insurance Plc. after having started there as an actuary 5 years earlier. By that time, the company was listed on the Hungarian Stock Exchange.
This rapid and successful rise to the top did not go unnoticed as Forbes included her on their Hungarian edition of "30 under 30", a list of the most successful Hungarians still in their 20s.
Being obsessed with innovation working in a traditional industry, fintech and insurtech quickly became irresistible disciplines to explore. And longing after intellectual development and challenges while currently being on maternity leave, she decided to give birth to yet another "lovechild", the FintechFlow podcast.